What We Expect
Rumors about the next-generation iPhone have been picking up over the course of the last few months, as suppliers gear up for a September launch date following a September 9 iPhone event. The majority of rumors have been focused on the screen size of the device, which is expected to increase significantly. The size of the iPhone's display grew from 3.5 inches to 4 inches with the iPhone 5, and with the iPhone 6, the screen will grow even larger.
Apple has been experimenting with a wide variety of screen sizes, with the majority of rumors solidifying around a range of 4.7 inches and 5.5 inches, bringing the next iPhone in line with competing Android and Windows phones that have all adopted larger displays.
Apple acknowledged high consumer demand for phones with larger displays in one of its own internal presentations, and based on that evidence, it seems clear the company is planning to address the growing segment of market that desire bigger phones.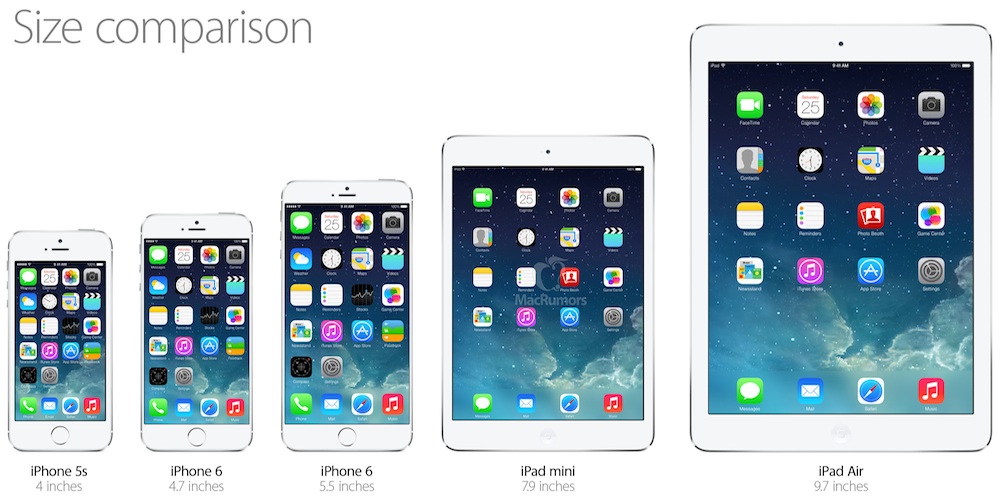 Rumored sizes of the new iPhone 6 compared to iPhone 5, iPad mini, iPad air
Apple is expected to release the 4.7-inch iPhone 6 around September of 2014, but there has been some disagreement about the launch date of the 5.5-inch iPhone. Due to production issues that may or may not be resolved, the larger 5.5-inch iPhone could launch alongside the 4.7-inch version, or at a somewhat later date.
Both the 4.7-inch and 5.5-inch iPhones will have an increased resolution due to their larger screens, possibly at 1704 x 906, a pixel-tripled resolution that would give the 4.7-inch model a pixel density of 416 and the 5.5-inch version a pixel density of 365.
Along with a larger screen, the iPhone 6 may feature a durable sapphire display in at least some models, and rumors have also indicated the iPhone 6 may adopt slimmer bezels and a thinner chassis. The larger 5.5-inch iPhone 6 might also incorporate Optical Image Stabilization as a differentiating feature from the 4.7-inch iPhone 6. It is also possible that the larger iPhone 6 will be the only model with a 128GB storage capacity.
Recent mockups, alleged schematics, and part leaks have suggested the iPhone 6 will be considerably thinner than the current iPhone 5s, possibly between 6mm and 7mm, and closer in thickness to the iPod touch. The existing iPhone 5s has a thickness of 7.6mm, while the iPod touch measures in at 6.1mm.
Possible Part Leaks
With less than a month to go until Apple's scheduled September 9 iPhone event, alleged iPhone 6 part leaks are being shared on a daily basis. At this point, we've seen virtually every part of the 4.7-inch iPhone 6, giving us a clear look at what the final device may look like.
While none of the part leaks shared below can be verified as authentic, they have come from an array of different sources and they match up with previously leaked design schematics and mockups. The high quality of many of the parts depicted in the images also points towards their authenticity, as does their similarity to existing iPhone 5s parts.
Beginning with the iPhone 6's front panel, we'll share each part of the iPhone 6 leaked thus far, explaining how all of the pieces fit together to form a complete device.
Along with thinner bezels, the glossy iPhone 6 front panel seen in several leaked images has slightly tapered, rounded edges that will likely sit flush with the rear shell, creating a sleek, seamless look and feel for the device.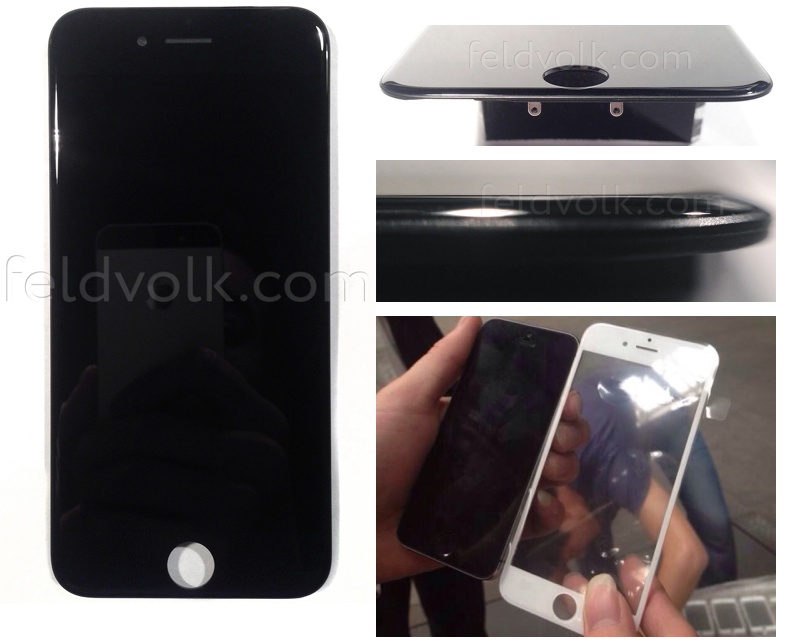 A set of durability tests that involved bending and scratching the front panel suggest that it is highly scratch resistant, but a later scratch test indicated the front panel may not be made of sapphire.
via macrumors.com
(Visited 69 times, 1 visits today)
Related posts:
Comments
comments
From the internet